Top Temples of Angkor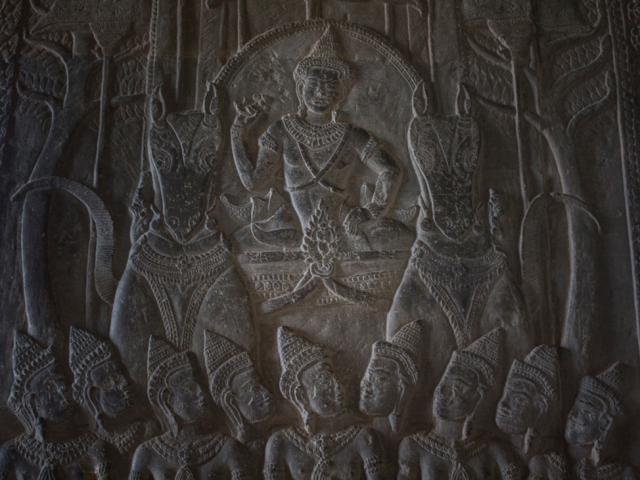 Angkor is the earthly representation of Mt Meru, the Mt Olympus of the Hindu faith and the abode of ancient gods. The temples are the perfect fusion of creative ambition and spiritual devotion. The Cambodian 'god-kings' of old each strove to better their ancestors in size, scale and symmetry, culminating in the world's largest religious building, Angkor Wat.
Angkor Wat
Angkor Wat is the best preserved temple and dates back to the 12th century. Despite the throngs of tourists that were waiting to snap photos with us as the sun rose, we were still able to steal quiet moments in empty corners to absorb the significance of this historic site. It is well worth considerable time to walk through the temple and grounds after getting the initial postcard shot.
South Gate to Angkor Thom
It's not just the temples that hold significance and photo-worthy stops, but the magnificent gates between them as well. There are 54 statutes along the bridge leading up to this particular gate, some appearing smooth and new, others damaged by erosion or vandals.
Royal Palace (Angkor Thom)
The last capital city under the Khmer empire (once the most powerful empire in all of southeast Asia), Angkor Thom was established late in the 12th century. It is a massive complex of 9 square kilometers and was abandoned sometime before the early 17th century.
Bayon (Angkor Thom)
The most striking feature of the Bayon Temple is the large number of giant faces (216, in fact). Standing as a Buddhist shrine, it was the last temple to be built in all of Angkor.
Ta Prohm
Besides the morning rush for sunrise photos at Angkor Wat, this had to be the most visited temple. Understandably so, with the forest reclaiming much of the structure, there is a natural and eerie mysticism to it that doesn't exist with the others. (It is no wonder that this temple was a prominent set in the film Tomb Raider.). This temple was originally home to more than 12,500 people in the 12th century, with an additional 800,000 living and working nearby.
Banteay Srei
Considered by many to be the jewel in the crown of Angkorian art, Banteay Srei is cut from stone of a pinkish hue and includes some of the finest stone carving anywhere on earth. Begun in AD 967, it is one of the smallest sites at Angkor, but what it lacks in size it makes up for in stature.The art gallery of Angkor, Banteay Srei, a Hindu temple dedicated to Shiva, is wonderfully well preserved and many of its carvings are three-dimensional. Banteay Srei means 'Citadel of the Women' and it is said that it must have been built by a woman, as the elaborate carvings are supposedly too fine for the hand of a man.